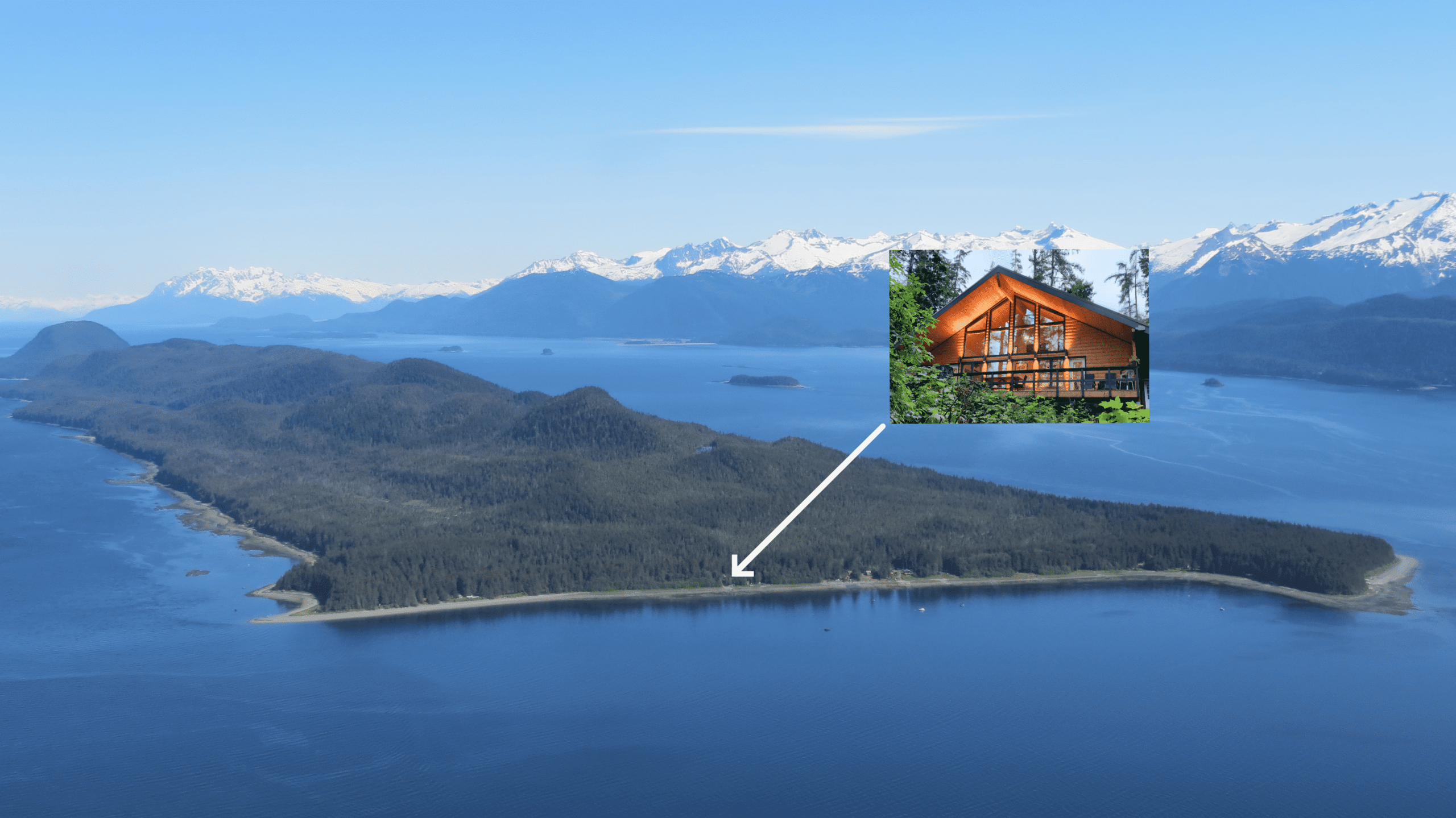 Called KeteXaq by the Tlingit Indians, the island is approximately nine miles long.  It is comprised mainly of Sitka Spruce and Hemlock, bordered by Alder trees along its coastline.  Like the native Alaskans that first came here, thousands of visitors have been lured to Shelter Island for the protected waters of the inside passage and the abundance of fish and wildlife.  Come visit and let us share Shelter Island with you!
Most guests fly to Juneau International Airport on Alaska Airlines.  They provide daily jet service to the capital city via Seattle or Anchorage.  Delta Airlines also flies to Juneau, but with limited flight availability.  Guests should arrive in Juneau by 4:00pm on arrival day and can depart on flights scheduled to leave noon or later on departure day.
To check on fares and schedules go to www.alaskaair.com. 
Upon departure guests will be flying home with their fish box(es) as luggage.  Current luggage regulations on Alaska Airlines are:
HAND CARRY: One hand carry (22" x 14" x 9" including wheels) and one personal item (purse, laptop, backpack).  CHECKED-IN BAGGAGE:  1st Bag/Box = $30 (maximum 50 lbs), 2nd Bag/Box = $40 (maximum 50lbs), Additional Bag/Box = $100 (up to 100 lbs)
Shelter Lodge staff picks guests up at the Juneau Airport or Airport Hotel at 4:00pm on the lodge arrival day.  A stop is made at Safeway where guests may purchase their favorite beverages, snacks, any liquor supply they desire (we do not sell liquor at the lodge), and any last minute items they may have forgotten back home.  From there they proceed down to Auke Bay Harbor, and take a brief 20 minute boat ride out to Shelter Island.  After settling into rooms, guests are issued raingear, boots and fishing licenses then meet in the main lodge building for introductions, orientation and dinner.
6:30 a.m. — 7:30 a.m.       Breakfast
7:30 a.m. — 8:00 a.m.       Boat Loading and Departure for day's fishing.
Lunch selections are a sandwich, wrap, salad, spam musubi or bento daily.  Hot coffee & water, and drinking water are provided aboard the boats.  Soft drinks and snacks are not provided.  Guests are welcome to bring these items along with them.
4:30 p.m. — 5:00 p.m.       Return to the Lodge.  In the event of a delay in normal departure time, adjustments on the return time may be made at the discretion of the Lodge Manager, but not later than 5:30 p.m. to maintain lodge schedule for dinner.
6:00 p.m. — Dessert!          Hearty Dinner includes appetizers, soup, salad, main entrée and homemade desserts.
Guests enjoy breakfast while their fish boxes are packed to go.  Drop off at the Juneau Airport will be by 11:00am.  Guests may book any flight departing from Juneau noon or later. 
Hop aboard our comfortable 26' Cabin Cruisers.  These quality built North River boats are outfitted with bathrooms, life raft, EPIRB, modern electronic fish finding equipment, GPS, downriggers and all the fishing tackle you'll need to bring in the big ones!  Four anglers are the norm on each vessel, though parties of five or six are welcome.  Each of our Coast Guard licensed captains know exactly where to take you for an unforgettable fishing journey.
FISH PROCESSING & PACKING
Each captain is responsible for processing their guests' fish catch.  Steaks, fillets, roasts, etc. can be accommodated.
Fish are filleted, vacuum packed, labeled with species and frozen.
On departure day, fish are wrapped in insulated liners and packed in personally labeled airline approved wax coated fish boxes to travel home as luggage.